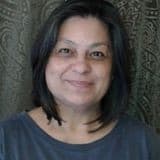 Catherine Smith
Bowen Therapist
Catherine has 30 years of experience in aromatherapy, reflexology and spiritual healing coupled with 20 years of Bowen therapy.
In 1997 Catherine became certified in Bowen Therapy by the first United States certified teacher, Milton J. Albrecht. Catherine was re-certified in 2012 by Milton's cousin Albert J. La Shell. When conducting her therapy, Catherine integrates Bowen Therapy with myofascial release, reflexology, aromatherapy, and spiritual healing,
Catherine is an intuitive, caring and compassionate therapist Her love and passion for her trade and the well being of others is demonstrated in her actions, therapies and personality.