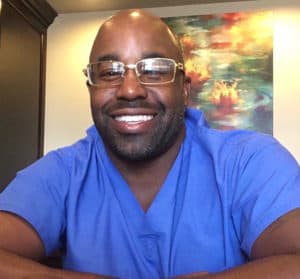 John Dennard is a medical professional with over 16 years' experience in the field. John's intrinsic value of caring for others and desire to make medical processes seamless for clients provides him with undaunted motivation.
John's natural disposition has led him to the medical field where he has over the years wholly and unwittingly applied himself and found immeasurable satisfaction and joy. He is a certified healthcare provider who brings an extensive industry acumen. His affiliations and certifications include NPA (National Phlebotomy Association), ASCP (American Society for Clinical Pathology), CPT II (Certified Phlebotomy Technician II), and APA (American Phlebotomy Association, National). In his career years, he has worked for some of the top Medical Centers in the world including University of North Carolina Healthcare Systems, Duke University, and Kaiser Permanente.
John's true and ultimate desire is to enhance a positive healing experience and confidence to those in need. It is essential for a medical practitioner to be open, strong, determined, thoughtful and caring. These qualities and many more makes caring for his patients easier. In turn, he simply utilizes these qualities alongside his skills to make these clients comfortable and calm throughout the whole medical process.
As a passionate healthcare provider, he is also open to communication, keen, and readily available at the disposition of his clients. He seeks to acquire a comprehensive evaluation of every patient by taking time to listen and understand their particular needs. John is endowed with a caring and passionate personality which makes his job enjoyable.